POULTRY GUARD

*Naturally prevent and eliminate mites, ticks, fleas, harmful insects, mold, mildew, fungus, viruses, and harmful bacteria that cause disease on your farm.
Super Concentrate



32 oz. Concentrate
$37.26
NO HARMFUL CHEMICALS
NO KILLER PESTICIDES
OMRI LISTED
FOOD GRADE INGREDIENTS
How it works
Poultry Guard works by disrupting the pests' ability to breathe. The citric acid derived from our proprietary formula breaks down protein and organic matter. It is a highly effective deterrent as well. Poultry Guard causes a mechanical action to which molds, mildews, and pests such as ticks, lice, mites, flies, bedbugs, fleas and such cannot become immune. Saving you money—eliminating the need to rotate different products for different needs. Saving you time— 1-2 treatments per week as preventative maintenance will maintain a healthy environment. Increase production and revenue — a healthy flock and clean farm enhance the quality of product and farm production.
TESTIMONIAL
"Sweet, best product ever. A friend gave me about half a 32oz bottle. Never seen anything so efficient and effective, I had a fungus gnat problem then. Now it is preventive measures, thank you for such a amazing product."  Customer - Roseburg, OR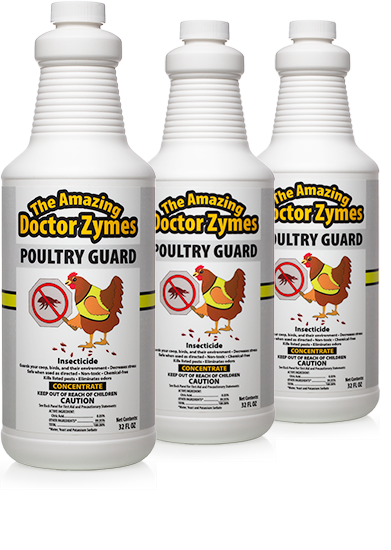 lOO% PESTICIDE FREE
No Chemicals - No Harm to the Planet
Use Poultry Guard to naturally prevent and rid your organic poultry farm of insects, molds, mildews, viruses, and bacteria causing disease which will decrease stress and mortality rates. Keeps flock, houses, and cages free from pests, molds, mildews, and fungus.
100% Environmentally Friendly
Non-Toxic and Biodegradable
Safe for Use Around Children and Pets
Made from Food-Grade Ingredients
No Harmful Residues
Can be Used up to Day of Harvest
Preformed Enzymes
Non– Bacterial
Neutralizes Odors
Can be Used as a Dip or a Spray
Can be Used with All Life Stages of Bird
Rinsing Not Required